"So many women and so many girls are going to die for this," Rodrigo said. "And I wanted to dedicate the following song to the five members of the Supreme Court who told us, at the end of the day, that they really don't give a shit about freedom."
Paul McCartney Proves He Still Has It
Performing a week after his 80th birthday, Paul McCartney made history as the oldest solo headliner in Glastonbury history. But his age definitely didn't stop him.
McCartney delivered a great set (literally and figuratively: it lasted almost three hours) that was full of nostalgia and surprise appearances. He was joined onstage by Bruce Springsteen and Dave Grohl and, most notably, he performed a "virtual duet" of I have a feeling with late former bandmate John Lennon.
McCartney sang along to Lennon's vocals, which had been cut from the original song. This came about with the help of director Peter Jackson (who worked on the recent Beatles documentary series Return) and the result, according to critics and festival goers, was quite sublime.
"[The song was] truly moving." The Guardianthe reviewer wrote. "You hear McCartney's voice at 80, thinner and scratchier than before, contrasted with Lennon's, frozen in time."
"I know it's virtual," McCartney said onstage. "But come on – it's John. We are together again.
Zelensky sets the tone
In a video message that opened one of the festival's main stages, Ukrainian President Volodymyr Zelensky urged festival-goers to "spread the truth about Russia's war," donate to relief efforts and put pressure on politicians who They can help restore peace.
"We want to stop the war before it ruins people's lives in other countries in Europe," he said. "Africa, Asia, Latin America, they are all under threat now."
The Libertines singer Pete Doherty, who played immediately after the video message, led a chant of Zelensky's name with the crowd and, later in the festival, McCartney waved a Ukrainian flag during his encore to massive applause.
Kalush Orchestra, the Ukrainian winners of this year's Eurovision competition, also performed at the event, marking their first UK show.
Diana Ross brings the joy
Motown icon Diana Ross rightfully drew one of the festival's biggest crowds, in Sunday afternoon's "legends space" (previously given to Kylie Minogue, Lionel Richie and Dolly Parton).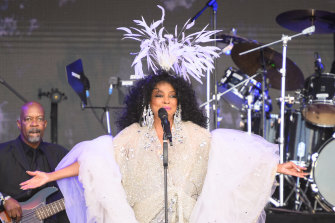 The 78-year-old singer launched straight into her hits, including I'm leaving Y baby loveand spoke about how much performing after the pandemic meant to her, after first being included on the program of the canceled 2020 event.
Though some fans found her vocals a bit lacking, most agree it didn't matter as the set (and Ross's overall performance) was an utter joy and a tonic for what we've all endured over the years. .
Ross, dressed in a sequined robe and feathered headdress, even returned for an encore performance of I will Survive (a song he covered in 1996). Truly, the perfect track for these times.
Kendrick Lamar closes with a flourish
Charging
Pulitzer Prize-winning rapper Kendrick Lamar closed the festival with a grand theatrical performance featuring an all-black dance troupe dressed in red suits and dresses. The performance included songs from his entire catalogue, but the most impressive moment came right at the end during Savior, from his latest album mr moral and the great climbers.
With a crown of thorns and blood spilling down her face, Lamar added the line "Good luck for women's rights. They judge you, they judge Christ" and he repeated it over and over again, before throwing the microphone in mid-sentence and rendering the dancers motionless on stage.
It might sound like a somber note to end a headline, but, for such a politically engaged festival and over such a momentous weekend, it's also fitting.
Do you need good news? The Greater Good newsletter sends stories to your inbox to improve your outlook. sign up here.