haute couture ★★★★
(M) 101 minutes
The cinema has made a lot of the fashion industry. Recently, a plethora of documentaries have taken us inside the houses of Cardin, Dior, Valentino, Yves Saint Laurent and many more. And in each one, the seamstresses of the workshops have emerged as the unsung heroines of the piece.
Uncredited, they are shown working on the architecture of each gown, making sure it falls properly and refining the lining, beading, embroidery, and a million other details that define haute couture.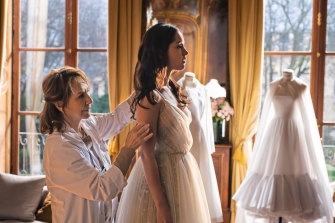 In the new feature film from writer-director Sylvie Ohayon, haute coutureThey are given what is due to them. Nathalie Baye plays Esther, the head seamstress at Dior's Avenue Montaigne atelier in Paris. An acerbic character with little patience for the sensitivities of others, she is nearing retirement after devoting decades of her life to work. She's cost him all hope of a personal life, she's had a fight with her daughter, and after it's over, she'll be faced with a blank journal.
But shortly before the decisive day, a fortuitous incident changes everything. They rob him in the subway.
Resigning herself to the fact that she will never see her bag or its contents again, she is outraged and relieved when the thief shows up at the workshop and returns it to her.
Buoyed by this unexpected act of remorse, she becomes curious. The thief, Jade (Lyna Khoudri), is a 20-year-old from an Arab ghetto on the outskirts of the city, and her delicate appearance comes with a vocabulary as salty as Esther's. During a combative dinner, she decides to give the girl a break by offering her an internship in her workshop.
From this point on, Ohayo's script flirts with the sentimental but never quite succumbs. Entertaining and caustic dialogue picks up the pace and sharpens the tone. Jade's friends and neighbors in the ghetto are a colorful and outspoken bunch and Jade doesn't hold back. She is critical enough to question the wisdom and morality of allowing yourself to be paid a pittance to make clothes only the rich can afford. Is it that different from sweating on an assembly line churning out fast fashion? Esther's response to that is her delight in the beauty of the garment and the crucial role she plays in creating it.