On Friday afternoon I came home to find my two daughters crying. His favorite YouTuber, Technoblade, had died.
If you're not a digital native, it's hard to appreciate the impact of internet personalities like Technoblade. Older people had parasocial relationships with celebrities in our youth, but most of those relationships took place in our imaginations. The famous people we adored were distant figures who played characters on our screens or made the music we listened to.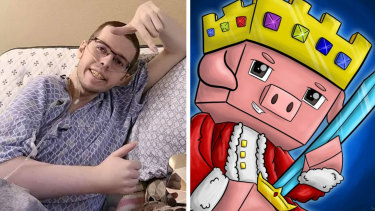 Technoblade he had a personal relationship with his followers, and there were more than 12 million of them. He chatted directly with them for hours while playing the Minecraft games he became famous for. He never showed his face or revealed his name, but he spoke candidly to his fans about his life, his ADHD and, in recent months, his cancer diagnosis.
Your video "Where I have been", released in August of last year, described with humor, lightness and strength his discovery of a sarcoma and his subsequent hospitalization and chemotherapy, all in a context in which he played Minecraft.
"He wasn't just an entertainer to us, or even a personality," my 21-year-old daughter said. "He was a friend, someone we could relate to and listen to when times were tough. He taught me and many others how to be ourselves".
Technoblade created a community of young people, many of them neurodivergent, and offered them acceptance, hope, and love. The world is a dark and difficult place for many children, and the sense of connection and belonging that online communities offer can really save their lives. Technoblade inspired its fans to keep moving forward, to keep pushing and to hang in there.
Charging
I've heard a lot about Technoblade from my kids over the years. I had imagined him tall and stocky, an imposing figure to match his tremendous online presence. Many of his fans believed his real name to be Dave, following a 2016 video, since deleted, in which a brother referred to him by that name.
But in his latest video, shared by his father after his death, Technoblade's name and face were finally revealed. His name was Alex, not Dave. He was a normal, sweet-looking boy with a cheerful and open face. Smiling broadly in his hospital bed with his glasses on, he looked like one of my son's friends.