Day's attorney argued that Sebastian and his former manager had accused each other of owing money, and the jury should acquit him of all charges to allow the business dispute to be adjudicated elsewhere.
Day had been Sebastian's long-term manager and Sebastian followed him when he started his own company, 6 Degrees, in 2009. Sebastian's income was paid to Day, who deducted a 20 percent commission and GST before sending the rest. singer.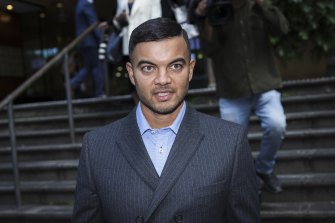 The court heard that several amounts went unpaid into Sebastian's "GuyTunes" account, causing him to part ways with Day in November 2017 and initiate action in Federal Court. Sebastian also reported the matter to the police in June 2020.
Sebastian told the court that he approached a detective who had been on a cricket team with his friend Tim Freeburn, initially asking for his advice and then making his complaint. This was due to various reasons, including not wanting to be photographed at a police station.
The decision to approach Detective Senior Constable David Murphy became a central issue for Day's attorneys, who argued that it was unusual for a police officer to have a social connection to the complainant in the case they were investigating.
Charging
In an interview taped the night of his arrest in July 2020, Day maintained that Sebastian also owed him money and questioned why his former client had not been "arrested for fraud."
"Any money I have from Guy, I say it's mine, and it's only a fraction of what he owes me," Day said in the interview. "He terminated my contract and did not pay me commissions."
Day also referenced an AVO he had taken out against Sebastian after receiving a phone call from a blocked number in May 2020 saying "Guy Sebastian wants you f—ed." Sebastian was questioned about the call in court and denied having anything to do with it.
In his summary to the jury, Judge Gartelmann said the Crown must show that Day's actions were fraudulent and that his apparent failure to transfer funds to Sebastian was not simply a mistake or an oversight.
Day's attorney, Dominic Toomey SC, echoed this, telling the jury that Day handled complex transactions for up to 30 clients on the same account.
Our Latest News Alert Will notify you of important breaking news when it happens. get it here.