Chris Hemsworth thinks he's played Thor in eight Marvel movies, or it could be nine, now.
So to follow up on the hugely successful Thor: Ragnarök with director Taika Waititi that felt original and distinctive was a challenge on an Asgardian scale.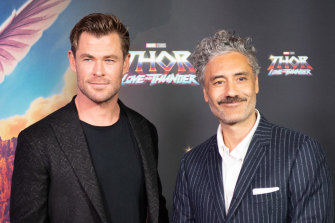 "The first time we worked together I felt like, 'This is the last one, do it, do what you want,'" Hemsworth said before the Australian premiere of Thor: love and thunder on Monday night.
Waititi, sitting next to him in a hotel room overlooking the Sydney Opera House, said they had nothing to lose by doing ragnarok as a wild, high-energy comedy that ended up grossing $854 million five years ago.
Charging
"Every idea we had, [we] just put it on because 'who knows if we'll ever get a chance to do this again,'" he said.
"When they said, 'Let's do it again,' it was like, 'Oh shwooo. Do we have more ideas? What do we do?"
Shot in Sydney early in the pandemic, Thor: love and thunder has an A-list Hollywood cast including Natalie Portman as returning astrophysicist Jane Foster, Christian Bale as villain Gorr the God Butcher, Russell Crowe as Zeus, Tessa Thompson as Valkyrie, and cameos from Matt Damon, Chris Pratt, Sam Neil and Melissa McCarthy.
Another high-energy comedy that's also a heartfelt romance, it has Thor going through an existential crisis, made worse when his ex-girlfriend Jane appears as a goddess of thunder.