There's an old joke about a tourist in New York asking a passerby for directions to Carnegie Hall, one of the world's most prestigious classical music venues.
"Practice, practice, practice," jokes the local.
But if they really knew, instead of being just a know-it-all, they would have added that an artist's degree from the city's Juilliard School, the preeminent school for the performing arts, whose alumni have won more than 100 Grammy Awards, 62 Tonys and 16 Pulitzers: Couldn't hurt.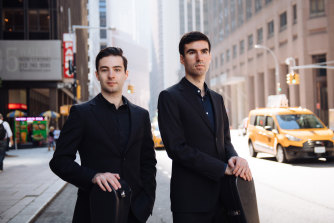 And now two Australian brothers are about to make history on that course: They are the second guitarists and the first guitar duo to be accepted into a scholarship program that accepts only a handful of the world's best young musicians each year, and he rigorously trains them to be even better.
"It's like the best educational opportunity," says Ziggy Johnston, 26, the taller and two years older of the pair. Adds Miles: "We can really focus on finding our unique voice as artists."
They are currently back in Melbourne, where they grew up, for a few months before returning to New York to begin the two-year course. They have been living there for a few years doing master's degrees, as soloists, at Juilliard.
After graduating from the masters, they applied for the artist diploma, but only made it to the waiting list, so they spent a year freelancing, "experiencing New York and, due to COVID, having to fight our way through to do anything." thing," says Ziggy. But they learned a lot more in that year about what they wanted to do: showcase Australian music, for example (Paul Grabowsky, himself a Juilliard alum, gave them some advice on their second app).
They asked if they could study as a duo and were told "in theory, yes," says Miles. The artist diploma program has had two before: piano and violin duets, but both were exceptions that required bureaucratic solutions in the long and demanding application process.