Samvad News Agency, Bahadurgarh
Published by: Pramod Kumar
Updated Thursday, 28 October 2021 09:33 AM IST
Summary
Another major accident took place at Bahadurgarh. Three women farmers were killed and two others were seriously injured in the incident. Those receiving treatment. Even a few days ago, eight members of the same family died in Bahadurgarh. The family is returning from Goga Medi in Rajasthan. Police are investigating the woman's death.
This dumper crushed women.
– Photo: Amar Ujala
Expansion
Three women from Punjab got into a commotion and died in a truck accident under the bypass flyover on the Jhajjar-Bahadurgarh road at the Tikri border stop where farmers were agitating for the repeal of three agricultural laws. Two women were injured in the crash. All women are Mansa residents. Some women and men were waiting for an auto rickshaw to get to the local railway station around 6.15am on Thursday. He had to go to Punjab. The women sitting on the divider were hit by a speeding dumper.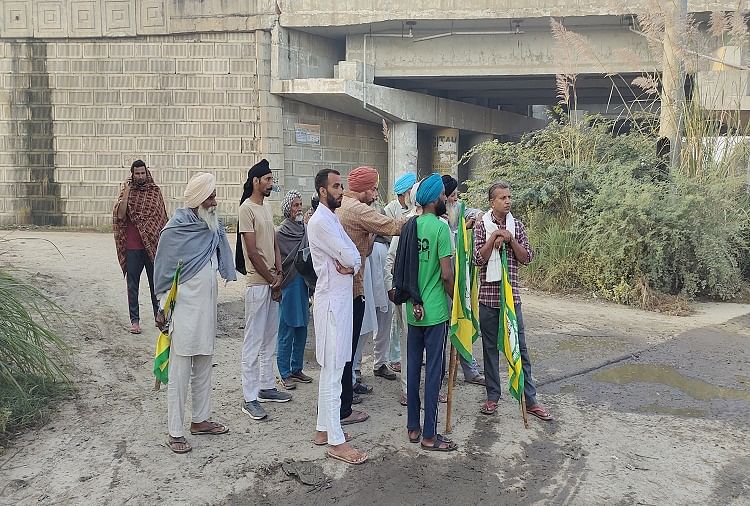 Punjab farmers rushed to the spot immediately after the accident.
Also read-Petrol and diesel prices in Haryana have gone up by Rs. 105.25, while the diesel price was Rs. Sold at 97.22.
The condition of the two women was critical

Three of them died on the spot and two women were seriously injured. One had a broken bone in his leg. Upon receiving information about the accident, the police immediately rushed to the spot and rushed the injured to the Civil Hospital. The bodies were recovered and taken to the hospital mortuary for postmortem after preliminary examinations. The driver left the dumper after the incident and fled. The police are looking for him.
Also read-Haryana Women's Commission recommends: DGP to set up SIT in Gurugram gang-rape case

The three are residents of Khiva Dayaluwala village in Mansa.

Among the dead women farmers were Chinder Kaur's wife Bhan Singh, 60, Amarjeet Kaur's wife Harjeet Singh, 58, and Gurmel Kaur's wife Bhola Singh, about 60. The women hail from Khiva Dayalwala village in Mansa district of Punjab and live on a bypass near the Jhajjar road flyover. Being here for a fixed period of time, the farmers are waiting for an auto to go to Punjab when their turn is done. Three people were killed when a dumper number HR-55N-2287 coming from Jhajjar collided while sitting on a divider.
Also read-Ellenabad by-election: Dushyanth Chautala says – Uncle is not great in words, he is great in statements, even the CM has targeted Abhay.
Two women were referred to PGI

Gurmel Kaur's wife Meher Singh is 60 years old and Harmeet Kaur was injured in the accident. He was referred to PGI Rohtak from Civil Hospital, Bahadurgarh. Police are investigating.

.

[ad_2]

Source link